Generate Reports of Articles Submitted on Website. To Generate Reports Navigate to Dashboard > Journal Research > Reports.
Use this Module to Generate Article Reports.
Admin can Generate
Article Reports
for
Any Volume, Issue and Article Status.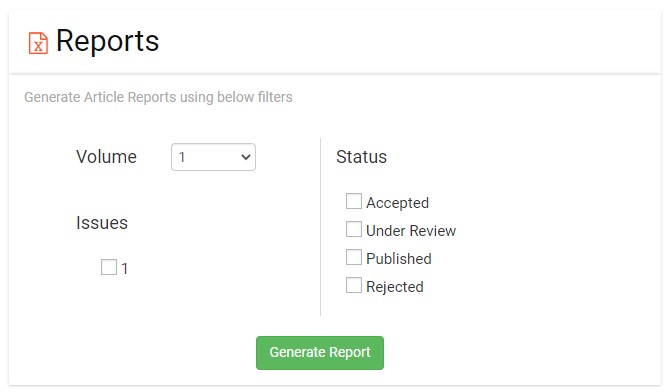 Report Format : Excel (.xls)
Select "

Issues'

. (You can Select Multiple Issues).

Note : Issue List : Only Shows Issue Numbers which has Articles Received.

Select "

Article Statuses"

. (You can Select Multiple Statuses)

Click on

"Generate Report"

Button

Within Seconds

"Generated Report"

will gets Downloaded.
Fields in the Generated Report are Predefined. You can not Customize the Report.
Area of Research (Subject)